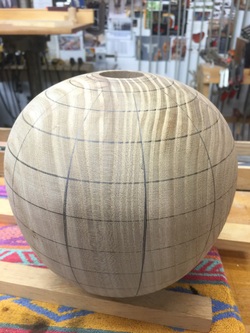 I was excited to be invited to participate in this year's American Association of Woodturners Professional Outreach Program (POP)
Exhibit, and very happy to also hear that the theme this year was "patterns". Patterns have long been an important part of my work, both ones occurring in nature, and those artistically developed.
The piece cannot be any bigger than 8" x 8", so this hollow form was turned just slightly under those dimensions. Made from Black Walnut.