About the artist: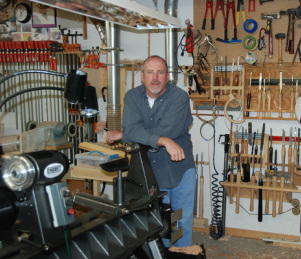 Woodworking has been a passion of mine for over 30 years, but it wasn't until 2008 that I transitioned from furniture making to woodturning. At the time I began to learn to turn as a way to enhance my furniture. However, once I began to experiment with the lathe I was quickly captivated by the endless possibilities for the artistic expression that seemed lacking in furniture building. I haven't built a piece of furniture since.

During the years that followed I studied with some of the premier woodturning artisans in the country and have worked to develop my skills at the craft, as well as my aesthetic vision as an artist. It has been both a captivating and exciting journey.

Using mainly reclaimed local trees destined for the fireplace or landfill, my pieces all start, and often finish on the lathe. Some local favorites are silver maple, walnut and cherry. My more intricately carved pieces have the initial shape of the vessels designed with the intended carving in mind, and once the turning is completed they move into the carving studio. There, a combination of hand and power carving tools are used to sculpt the final form. Although most pieces are turned on the lathe within a matter of hours, it's not uncommon for the carving and finishing on larger pieces to take several weeks, or even months to complete.

---
Woodturning Resume

Study:
Ernie Conover
Al Stirt
Dixi Biggs David Ellsworth Michael Mocho
Joe Ruminski
David Esterly
Glenn Lucas
Avelino Samuel Glenn Lucas

Parkman, Ohio at his shop
Arrowmont
Arrowmont
Arrowmont
John C. Campbell
Arrowmont
Marc Adams School
Ireland at his shop
Arrowmont
Arrowmont


September 2008
March/April 2009
September, 2010
June 2011
January, 2012
March, 2012
April, 2013
September, 2013
July, 2014
September, 2014

The Woodworking Show , Detroit 2014 - Project Showcase Competition - Best of Show

Grosse Pointe Art Society, Best New Artist of the Year, 2014

Demonstrations:

1. Carving on Turnings
2. Box Making
3. Using the Skew
4 .Fine Finials